Annual campaign to create awareness of Citizens Bank's partnership with the Military Warriors Support Foundation
Citizens Bank has partnered with the Military Warriors Support Foundation since 2015, helping through the donation and renovation mortgage-free homes so that combat wounded heroes can focus on settling back into their daily lives as civilians.

The Ask:
Create a campaign to build awareness of the partnership with Military Warriors Support Foundation with social media as the main media channel.
Solution for 2016: 
The Blizinski's were the recipients of a home in Detroit, MI. After having lived in many other places,
they were finally coming home
. 
Their story wasn't just about receiving a home, but coming home to their family and their roots. And with that I came up with the concept of "Coming Home" as our uniting thread for the campaign.

The recipients of the house in 2016 also had an amazing story to tell. Even though the home was going to the veteran, his wife's service was just as impressive. The idea of having each tell the other's story provided us with a more emotional and honest portrayal of their personalities and achievements. A microsite was created as a destination to drive people where they could see the full story and learn about the partnership with MWSF and past recipients.

The Blizinski's story was parsed into 7 different videos released from May through the summer, allowing us to showcase different aspects of their narrative, from John's story to Nicole's story, building to a crescendo of the final home reveal.
In addition to promoting the videos in social media, we leveraged the personal photography the Blizinski's shared with us, creating a photo album to round out their story. Then, we asked our audience to share their story and tell us what coming home means to them.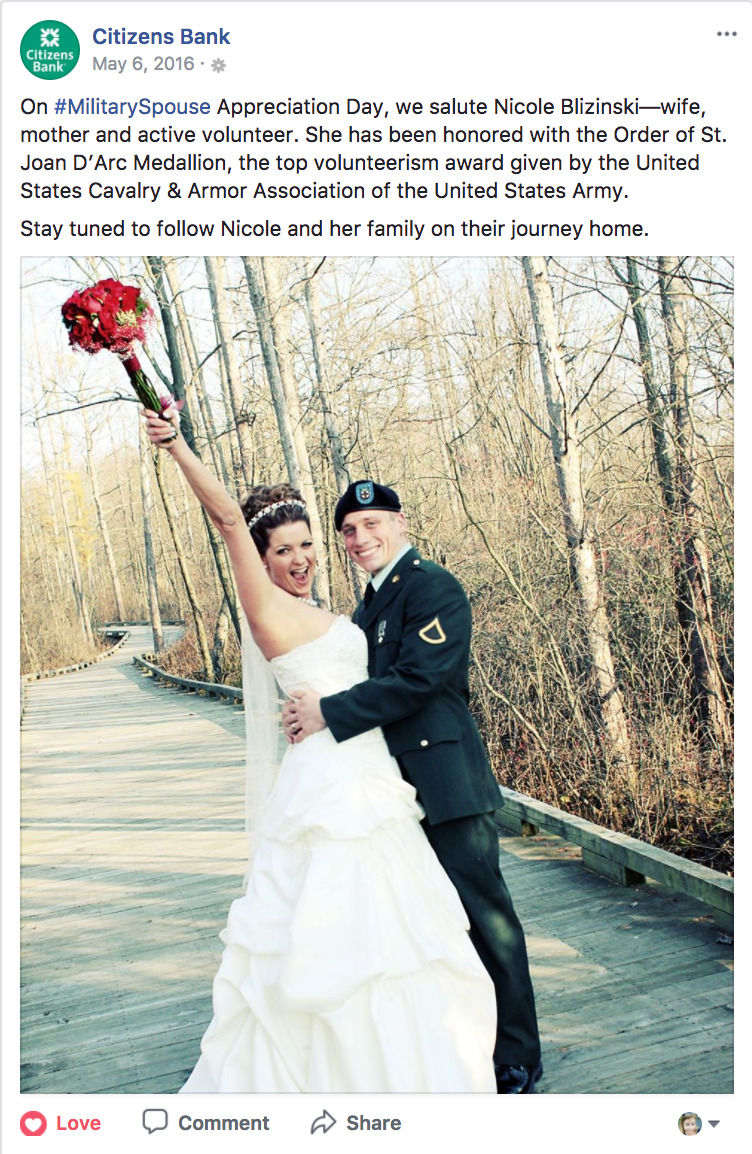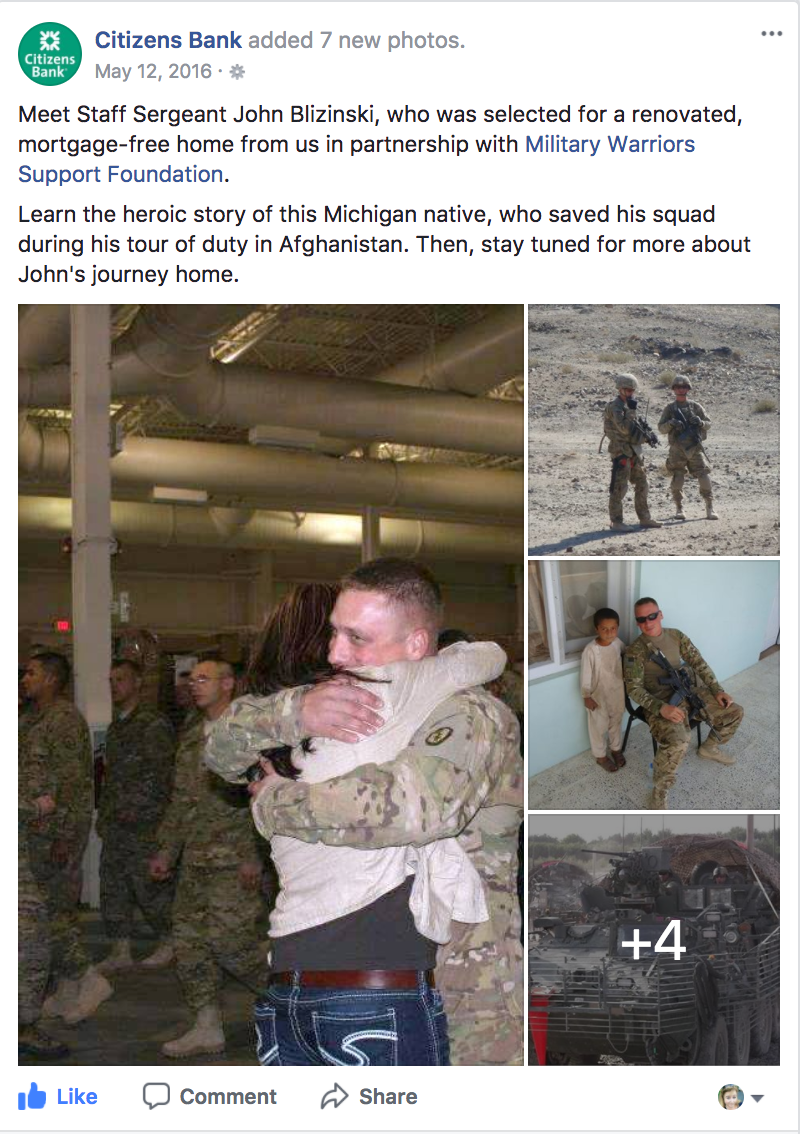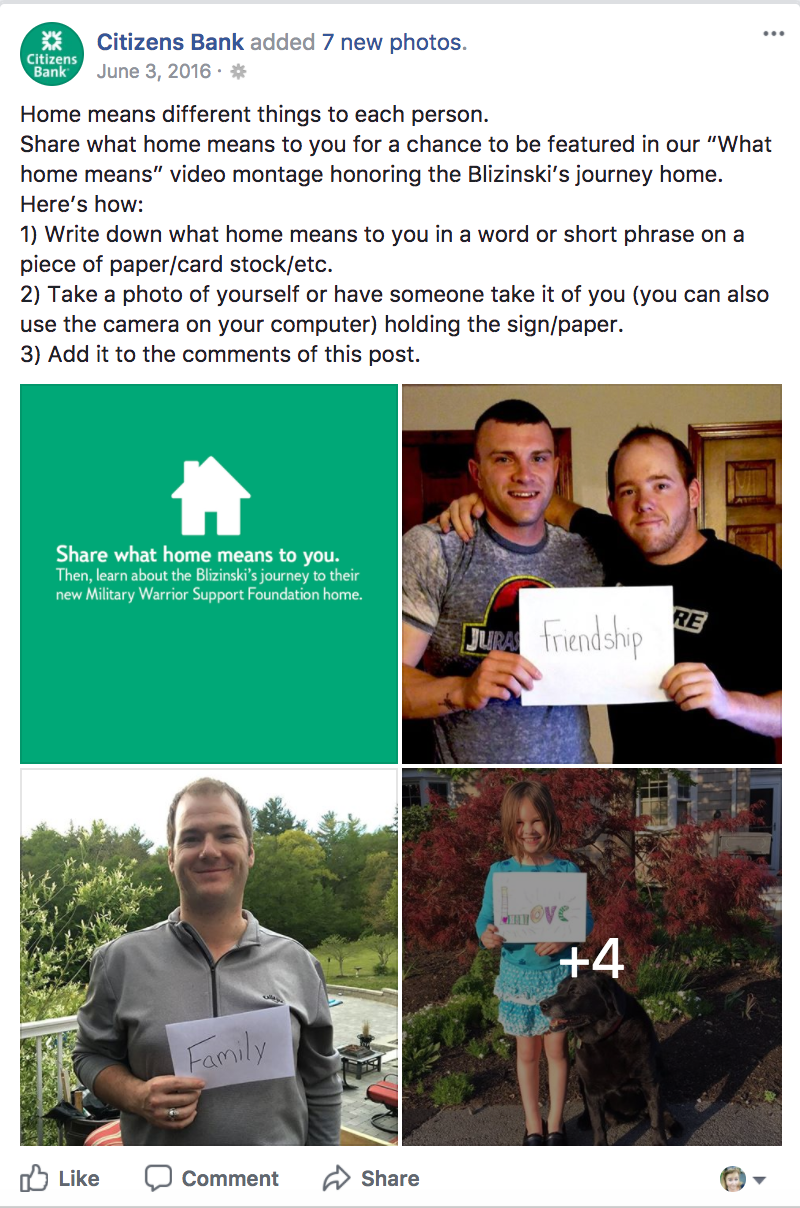 Solution for 2017:
 As this program was becoming a recurring sponsorship, I felt it was important for Citizens Bank to have an ownable name for the program (for the first two years, it was just called by the sponsorship name, Military Warriors or MWSF, which also works with other brands to do similar work).
I came up with "Citizens Hero Homecoming" which brought in the brand name, highlighted who was receiving the home, and what we were helping them to do: come home. We developed a logo lock-up to use to help identify the program and create cohesive branding for it in upcoming years (see it in the video below).

The recipient in 2017 was single and very humble, so we used his friends and family to help tell his heroic story in a series of videos released over three months. We also invited our community to join in the conversation on social media by sharing their heroes and telling their stories.